Every year from the 10th to 13th of the Islamic month of Dhul Hijjah, Muslims around the world celebrate Eid al-Adha by slaughtering healthy four-legged animals that meet certain criteria.
The act, called qurban or udhiyah, is to commemorate Prophet Ibrahim's obedience to sacrifice his son, Ismail, for the sake of Allah. Allah then replaced his son with a ram, which was to be slaughtered in place of his son.
This Eid al-Adha, let's join our hands in extending qurbani meat to the most vulnerable communities around the world. If you can't afford to offer a whole animal or a portion of a cow, you can still be part of the cause by donating any amount that you are comfortable giving .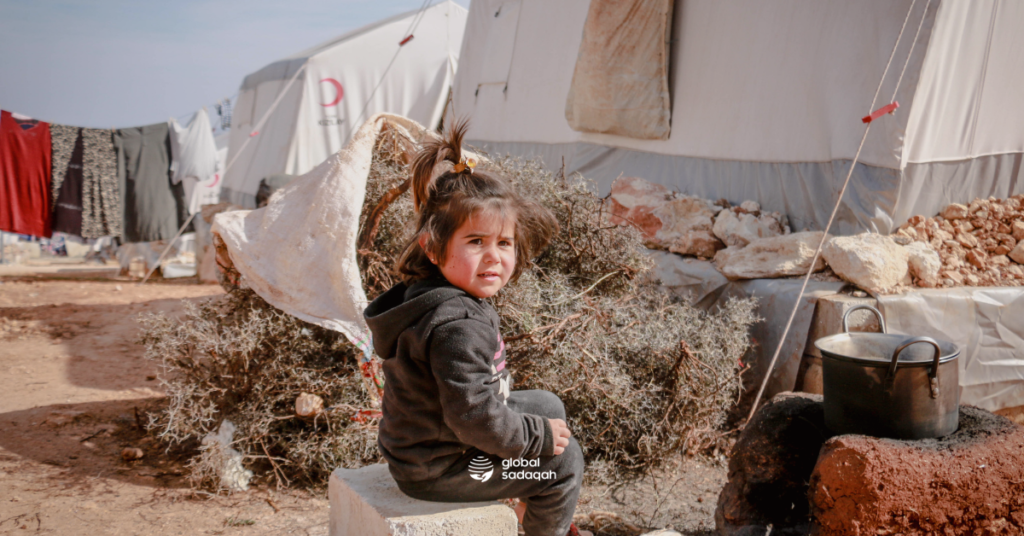 Through our Global Qurban Campaign, you can choose to offer your qurban or donation across 16 countries securely and safely from the comfort of your home.
Related: 5 Things You Need to Know about Qurban (Korban/Udhiyah) Abroad
1) Goat qurban for Rohingya refugees in Bangladesh
There are close to 900,000 Rohingya refugees sheltering in the Kutupalong mega-camp in Cox's Bazar, Bangladesh. It's the largest and the most densely populated refugee camp in the world. Currently, the mega-camp has exceeded its capacity, leaving the refugees with inadequate access to clean water, food supply, and healthcare.
Without proper livelihood opportunities, they do not have the means to improve their situation. Let's help feed the Rohinga refugees in Bangladesh this Eid al-Adha with your qurbani meat.
Qurban in Bangladesh
RM470 for a goat
2) Goat qurban for persecuted Rohingya Muslims in Myanmar
While a large number of Rohingya populations have fled to Bangladesh and other countries to escape Myanmar's military crimes against humanity, an estimated 600,000 of them remain in Myanmar.
Those remaining are subject to their government's persecution and violence, confined to camps and villages with restricted freedom of movement and cut off from access to adequate food, healthcare, education and livelihood.
This Eid al-Adha, let's bring food relief to our oppressed Muslim brothers and sisters in Rakhine State, Myanmar by offering qurban meat to them.
Qurban in Myanmar
RM780 for a goat
3) Goat and cow qurban for underserved families of fishermen and farmers in remote villages in Indonesia
Sula Islands Regency, one of the regencies in North Maluku Province, Indonesia, houses around 107,807 villagers across 78 villages. Most of these villagers work as fishermen and their income depends on the weather and the catch of the day. On average, they earn only about RM260 per month, which is even way below the lowest threshold for the B40 group in Malaysia.
Separately in Belu Regency, a district in the province of East Nusa Tenggara, Indonesia, the locals depend on agriculture to make a living. During the drought season, farmers are faced with devastating challenges as the production of the crop yields are significantly affected, and so is their income. Sometimes, they make only as little as RM40 a month.
This Eid al-Adha, let's put a smile on the face of approximately 450 families of fishermen in Sula Islands Regency and roughly 33,910 villagers in Belu Regency by offering qurbani meat in their regions. For these people, having to enjoy meat is a luxury they rarely experience.
Qurban in Sula Islands Regency, Indonesia
RM780 for a goat
Qurban in Belu Regency, Indonesia
RM5,062 for a whole cow
RM724 for one portion of a cow
4) Sheep qurban for the disenfranchised Muslim-minority in Kashmir
In 2019, the Indian government revoked the constitutional autonomy provisions of Jammu and Kashmir, the country's sole Muslim-majority state and a region disputed by Pakistan. The discrimination has since severed with mass disfranchisement of the Kashmiri Muslims, deteriorating security, economic backsliding, and political violence.
Let's lift some burden off their shoulders this Eid al-Adha by offering qurbani meat to those among them who are in need, homeless and orphans.
Qurban in Kashmiri
RM670 for a sheep
5) Sheep and cow qurban for war-torn families in Gaza, Palestine
Gaza is home to more than 2 million Palestinians. The 11-day attack in May 2021 left more than 250 dead and brought widespread devastation to the already impoverished Gaza Strip. The Gaza Health Ministry says at least 243 Palestinians were killed, including 66 children, and 1,910 were wounded. The attacks flattened high-rises and houses, tore up roads and wrecked water systems. The attacks also destroyed or damaged more than 16,000 homes, along with 58 schools and training centres, nine hospitals, 19 clinics and other infrastructure.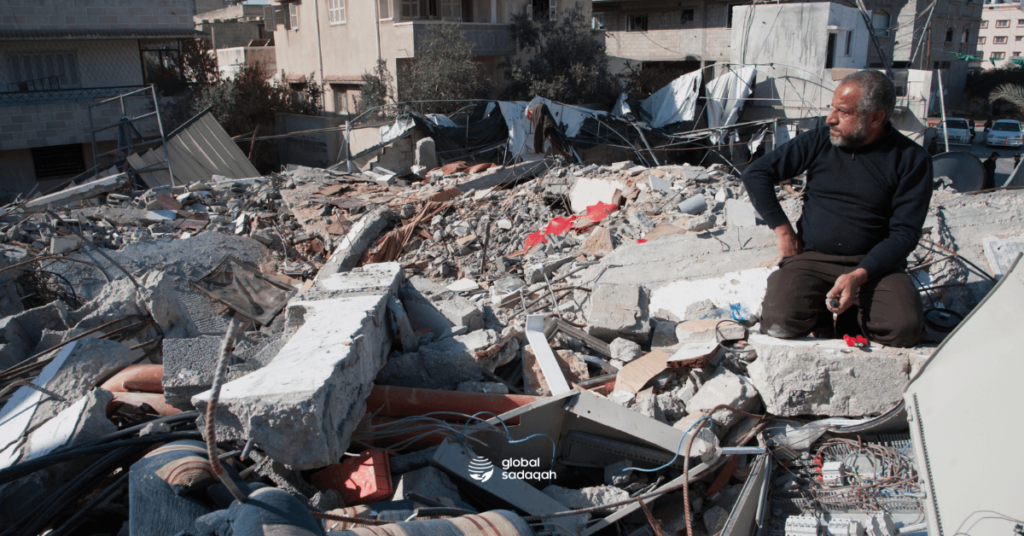 Offering qurban meat for the Gazans will help revive their spirits and show them our unwavering support. Beneficiaries include those whose houses were demolished by the occupational forces and families of the martyrs.
Qurban in Gaza, Palestine
RM1,447 for a sheep

Qurban in Gaza, Palestine
RM8.815 for a whole cow
RM1,260 for a portion of a cow
6) Goat qurban in Malawi as part of the Imam Development Project
Malawi, a small country in Southern Africa, remains one of the poorest countries despite making significant economic and structural reforms to sustain economic growth. More than two-thirds of its population lives in extreme poverty. 70% of them live on less than $1.90 a day. The country has an estimated population of 18.6 million in 2019 and is expected to double by 2038.
This Eid al-Adha, The Imam Development Project aims to strengthen the local Imams' position in the Malawi communities through the distribution of qurban meat to their villagers. Having to enjoy meat is such a rare occasion to these villagers, and receiving it from a local Imam would make the villagers feel more connected to the Imam and the masjid, and subsequently open more doors for educational and empowerment programs.
Qurban in Malawi
RM311 for a goat
These are 10 other countries whose populations are living below the poverty line that you can offer your qurbani meat to via our Global Qurban Campaign.
7) Cow qurban in Papua New Guinea
Papua New Guinea, one of the poorest countries in the Pacific region, is located just north of Australia. Approximately 39.9% of the population lives below the poverty line. Only 8% of its rural areas have proper sanitation. This is causing major illnesses and an almost 40% infant mortality rate.
Qurban in Papua New Guinea
RM4,540 for a whole cow
RM649 for a portion of a cow
Related: 8 Reasons why you should do your 2021 Qurban online with GlobalSadaqah
8) Goat and cow qurban in Johor, Malaysia
Under this campaign, your qurban will be carried out by WaqafaQurban that will channel 10% of the qurban sales to Sunduq Infaq as part of a sustainable waqf.
The qurbani meat will be distributed to the deserving students, orphans, single mothers, indigenous people, families severely affected by the COVID-19 pandemic and zakat recipients. A portion of the qurbani meat will be preserved to be distributed throughout the year for those who have no opportunity to have meat after the qurban period.
Qurban in Johor, Malaysia
RM1,300 for a goat
Qurban in Johor, Malaysia
RM5,725 for a whole cow
RM818 for a portion of a cow
9) Cow qurban in the Philippines
The Philippines has a fairly high poverty rate with more than 16% of its population, or about 17.6 million people, living below the poverty line. Due to its geographic location, the Philippines are susceptible to natural disasters such as typhoons, earthquakes and cyclones, contributing heavily to the high poverty rate in the country. The COVID-19 crisis has only worsened the people's livelihood, particularly impacting their access to food.
Qurban the Philippines
RM3,405 for a whole cow
RM487 for a portion of a cow
10) Fat-tailed sheep qurban in Yemen
Yemenis are going through an unprecedented level of hunger due to the ongoing war in the country.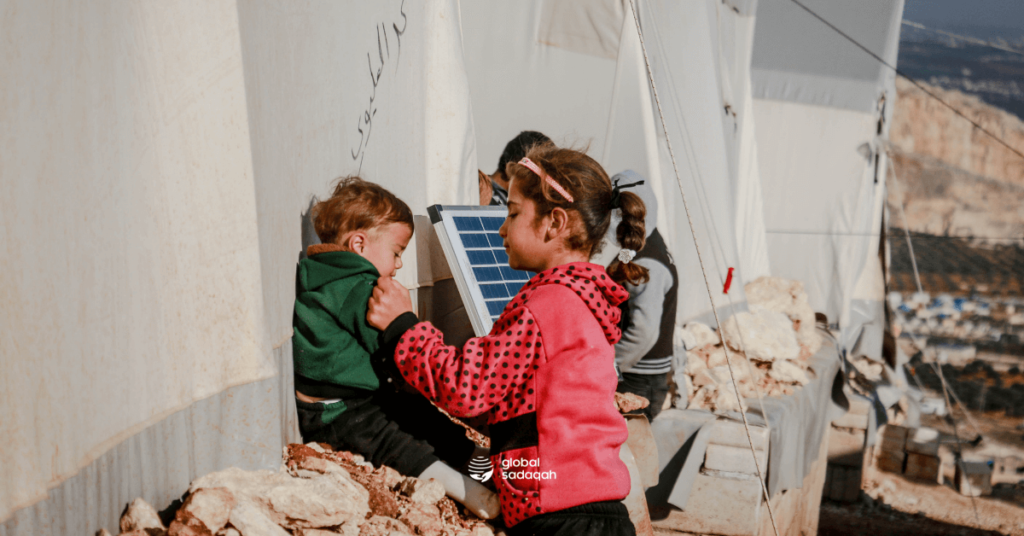 Despite the humanitarian assistance received by the country from various organizations, 16.2 million Yemenis are still lacking basic food access.
Qurban in Yemen
RM800 for a sheep
11) Cow qurban in Cambodia
Most of the families in Cambodia have been severely affected by the COVID-19 pandemic and lost their source of livelihood. The qurbani meat will be distributed to not only the poor but also to madrasah and tahfiz students.
Qurban in Cambodia
RM2,660 for a whole cow
RM380 for a portion of a cow
12) Goat qurban in Uzbekistan
According to the World Bank, around 4 to 5 million people in Uzbekistan (around 12 to 15% of the population), live below the poverty line. 5.9% of its population is unemployed, and 19.7% of those unemployed make less than $2 a day.
Qurban in Uzbekistan
RM840 for a goat
13) Sheep qurban in Seville, Spain
According to the United Nations, Spain has badly failed in tackling poverty and the country now ranks among the worst in the EU. The country's unemployment rate of 13.78% is more than double the EU average.
Qurban in Spain
RM810 for a sheep
14) Cow qurban in Zaria, Nigeria
Several Muslim communities in and around Zaria live below the poverty line due to the lack of employment opportunities. Those who are employed earn very minimal wages, and the pandemic has resulted in major job losses in the state.
Qurban in Nigeria
RM3.020 for a whole cow RM431 for a portion of a cow
15) Cow qurban in South Sudan
South Sudan has been struggling to recover from a five-year war that has killed almost 400,000 people. The country is facing a humanitarian crisis and food shortage made worse by the pandemic. The local population calls 2021 'the year of starvation.'
Qurban in South Sudan
RM5,660 for a whole cow
RM809 for a portion of a cow
16) Cow qurban in South Africa
Comprising only a mere 1.6% to 1.8% of the entire population, the minority Muslims in South Africa face many struggles in their daily lives such as displacement, high crime rate, drug abuse and xenophobic attacks. Most of our newly reverted Muslim brothers and sisters, especially the indigenous people, come from extreme poverty. Hunger and food insecurity have, in particular, become much more prevalent in the wake of COVID-19. Forecasts are currently estimating that the pandemic may push up to 1 million people into poverty.
Qurban in South Africa
RM4,540 for a whole cow
RM649 for a portion of a cow
Refer to the list below if you need to make a quick comparison of the cost of a goat, sheep, a whole cow, and a portion of it across the 16 countries. For donation, there is no minimum amount required, so you can offer any amount that you are comfortable giving. You could also do both, offer qurban and donate to any of the campaigns that resonate with you.
| | | |
| --- | --- | --- |
| No | Country | The cost of a goat |
| 1 | Malawi | RM311 |
| 2 | Bangladesh | RM470 |
| 3 | Sula Islands Regency, Indonesia | RM780 |
| 4 | Myanmar | RM780 |
| 5 | Uzbekistan | RM840 |
| 6 | Johor, Malaysia | RM1,300 |
| | | |
| --- | --- | --- |
| No | Country | The cost of a sheep |
| 1 | Kashmir | RM670 |
| 2 | Yemen | RM800 |
| 3 | Spain | RM810 |
| 4 | Palestine | RM1,447 |
| | | | |
| --- | --- | --- | --- |
| No | Country | The cost of a whole cow | The cost of a portion of a cow |
| 1 | Cambodia | RM2,660 | RM380 |
| 2 | Nigeria | RM3.020 | RM431 |
| 3 | Philippines | RM3,405 | RM487 |
| 4 | Papua New Guinea | RM4,540 | RM649 |
| 5 | South Africa | RM4,540 | RM649 |
| 6 | Belu Regency, Indonesia | RM5,062 | RM724 |
| 7 | South Sudan | RM5,660 | RM809 |
| 8 | Johor, Malaysia | RM5,725 | RM818 |
| 9 | Gaza, Palestine | RM8,815 | RM1,260 |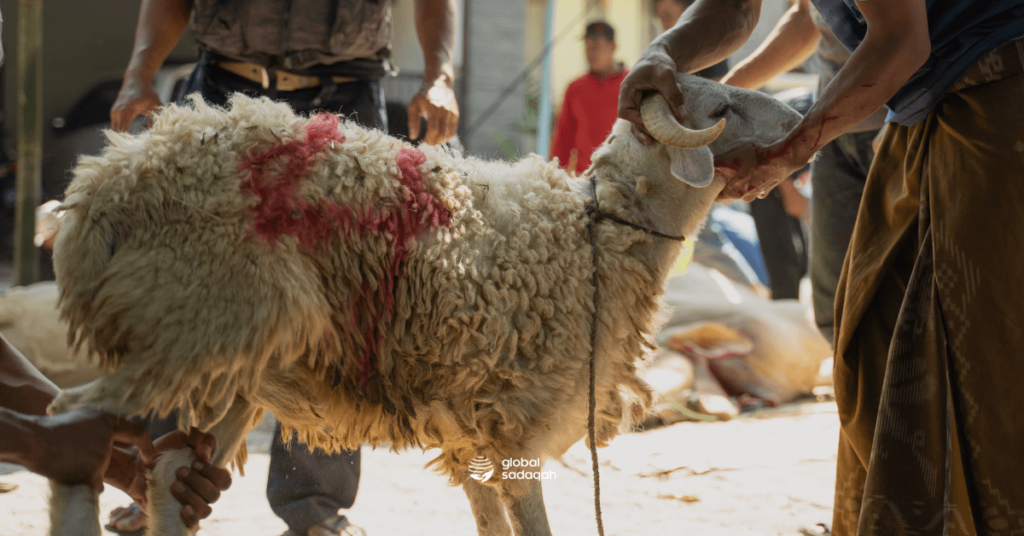 Join our Global Qurban Campaign and help spread smiles across the world today!