Yes! It is our responsibility to look after our Muslim brothers and sisters. As reported by An-Nu'man Ibn Basher, Rasulullah (Peace Be Upon Him) said, "The believers in their mutual kindness, compassion and sympathy are just like one body. When one of the limbs suffers, the whole body responds to it with wakefulness and fever." It is saying that Muslims are like a body of a living person. It doesn't matter what and where it hurts, as a result the whole body will react to fix the damage. As Muslims, we should function as if we are one body. If one of us is in need, others from the muslim Ummah should take the responsibility to help out.
Why Donate during Ramadan?
The most-awaited month of Ramadan is finally here, and Muslims worldwide are preparing for this holy month. It is the month of blessings and Barakah, where Allah (S.W.T) opens His gate of mercy and multiplies the reward manifold for the righteous work. With that, Muslims aim to do as much good deeds as possible as narrated by Ibn 'Abbas: "The Prophet (Peace Be Upon Him) was the most generous person, and he used to become more so (generous) particularly in the month of Ramadan…more generous than the fast wind in doing good". Therefore, the best of Sadaqah is given during the month of Ramadan. Not only that, this also helps to strengthen the spirit of the Muslim Ummah. Especially since there is an ever-present need among Muslim communities, we should aim to do as many good deeds as possible.
Challenges in Online Donation today
Despite the growing number of online donation-based platforms, there are present challenges that still make it hard for Muslims to use them. For instance, the lack of transparency. We don't really know how the money is being utilised. It may be that the donation did not reach the people who were entitled to it and was instead wrongly used. Transparency is essential in order to be sure of the charity institutions and/or individuals for whom the funds are being raised. Unfortunately, there is a lack of credible and reliable institutions that have efficient and effective online donation platforms or enough media coverage access.
However the issue of transparency can be addressed with impact tracking. It has been proven that donors would donate more if they have access to see the impact they have made over time. Impact tracking means that you can see how your donation has helped and changed the lives of the people that you have donated to. This allows you to see and realize the impact you have made through your donation.
Solutions
Global Sadaqah offers the solutions to all of these problems. GlobalSadaqah.com (powered by Ethis Ventures, an Islamic Crowdfunding platform expert) matches high-impact Charity Campaigns to savvy donors.
With Global Sadaqah, you can donate online and keep track of your donations. The platform offers a high-tech solution with high level transparency. Ethis stands for Ethical and Islamic, and we have a board of Sharia advisors and CSR specialists who screen and verify every project on the platform and controls and distributes the funds accordingly.

Through this platform you can also choose where you want the money to go to as Global Sadaqah offers various donation campaigns with reliable and trusted partners and/or institutions such as IJN (Institut Jantung Negara), Bank Islam and recently, with IDB (Islamic Development Bank). All of the campaigns on Global Sadaqah's platform are properly screened, verified and curated. This means that before any campaign goes live on the platform, Global Sadaqah would have already screened the projects to make sure that the project is the right one to donate to.
Impact tracking features is also included in the Global Sadaqah Platform. Donors will have their own personal dashboard on the website with updates on the social impact. This platform enables donors to actually see how their money is being utilised. Donors will get regular updates on their donations via emails and these updates will inform them on the current status of their donations and help donors keep track of their donations.
Global Sadaqah donation platform is open to everyone, Muslims or non-Muslims, individuals or corporates.
Global Sadaqah aims to help the Muslim community as a whole but mostly focuses on the right utilisation of funds. Muslims give a lot in charity, and yet Muslims are still in great need. This suggests clearly that lots of charity money gets lost in between or reaches the wrong people. This is where Global Sadaqah comes in, to change this mechanism and make sure that the money goes to the right people and is utilised in the right way.
With their recent alliance with IDB, Global Sadaqah is currently working on a huge charity project for AFAB (Alliance to Fight Avoidable Blindness) which involves helping people in 12 African countries to gain back their sight and prevent further occurrence of curable blindness.
IDB has been in this scene since 2003 and have been helping the visually impaired community at a very early stage. Since 2005, they started their alliances with multiple credible institutions to fight avoidable blindness. With the first phase of this program from 2008 to 2013 where USD $6 million was raised, they have helped people in 8 African countries to gain back their sight and prevent blindness through 244,000 screenings and 49,000 cataract surgeries.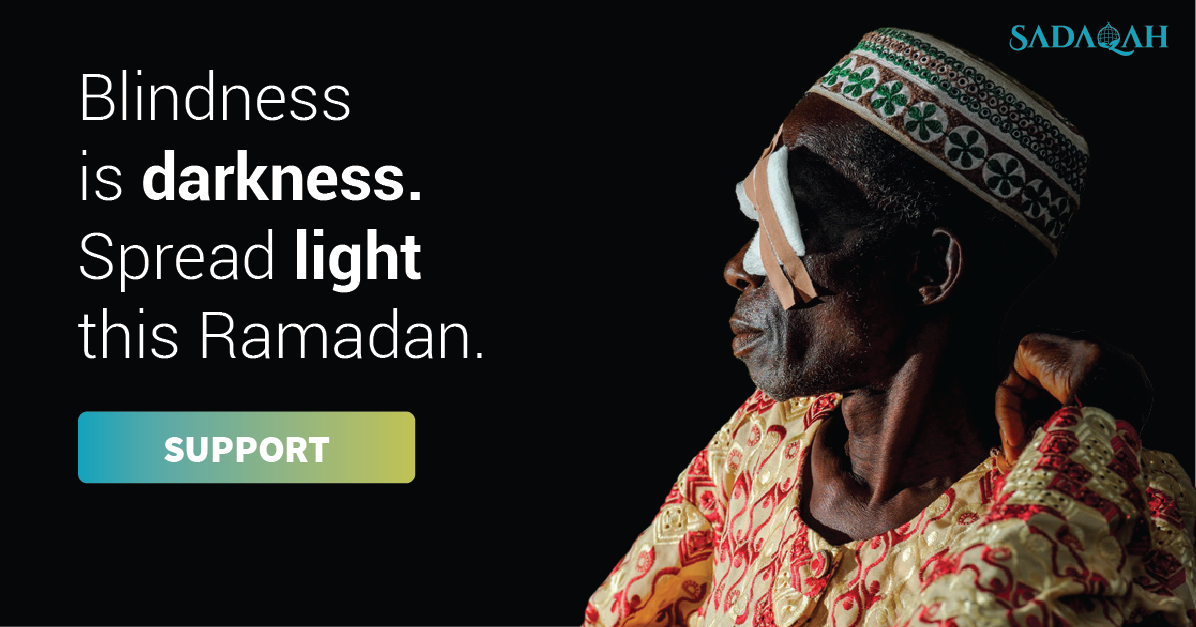 The second phase of this program aims to screen 1 million children in Africa and provide spectacles to those in need. Not only that, the aim is to also perform 100,000 cataract surgeries with at least 80% success rate. This means that the aim is to have at least 80,000 successful surgeries out of the 100,000. This campaign also includes building 6 glaucoma treatment centers in 6 different countries, to establish 4 national programs on uncorrected refractive error, to train at least 90 eye-care specialists, to provide up to 40 scholarships for medical doctors in ophthalmology and more.
Join Global Sadaqah today and be part of the ever growing donation platform. Let's make the world a better place together and help those in need.
Visit our website to Subscribe, Donate, Share, Participate in our #AFABCharityChallenge and many more.
You may also want to read: