Performing Hajj is a duty endowed upon every abled Muslim. While it is a dream for all Muslims to fulfill this obligation at least once in their lifetime, only the more fortunate ones get the chance to visit the House of Allah.
We all feel the excitement of the pilgrimage, the recitation of duas and the preparations whether it is you, your family or someone you know is going for Hajj. Hajj is an obligation which requires strong imaan and good physical health; hence it is necessary that you make the essential preparations before performing the Hajj to help you make the most out of it.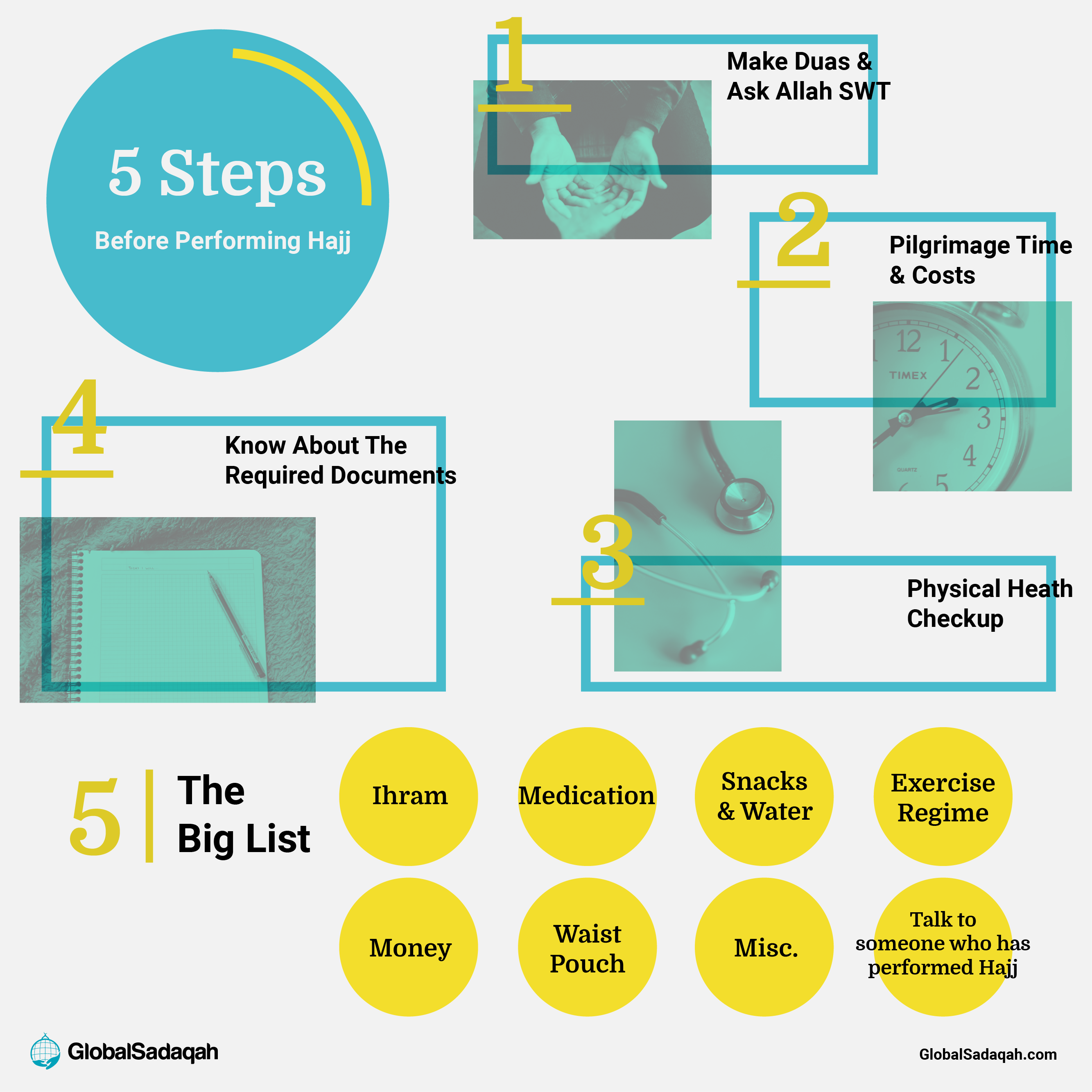 1. Make Duas and Ask Allah (SWT)
The first step is your niat (intention). Make a clear intention that you are performing the hajj pilgrimage for the sake of Allah. Make lots of Duas to Allah to give you the health, strength and resources to perform and to complete the hajj pilgrimage.
2. Pilgrimage Time and Costs
It is always better to start ahead of time. The duration of a hajj pilgrimage takes up 3 to 4 weeks (sometimes longer), hence you should start planning a year ahead. If you are employed, you will have to talk to your employer about the leave of absence you require and to talk to a travel agent to know the exact dates of the pilgrimage in the following year. You can obtain a rough estimation on the dates from the pilgrimage packages advertised by agencies and the additional costs which you may incur. These will give you a good deal of time to save up for a year and to shop for the best Hajj deals available.
Hajj packages undergo price hikes when you try to book an agent with an – around the corner dates. However, this can be avoided when you talk to an agent beforehand and plan your pilgrimage timely along with other details (immigration, group lead, hotel stay and travel etc.). By doing this, you are able to get a much clearer idea on the Hajj packages and save a lot of money.
While we believe health and sickness are both from Allah (SWT), it is also compulsory for you to take the necessary steps to make sure you are in good health. Get an overall health check – up done by a doctor before you leave for the pilgrimage to know your current physical condition. You should know the condition of your vital organs, medication that you will have to take, doses of current medication that you will have to change and most importantly vaccination shots to be taken.
Consult your physician for medical advice or do a quick study on the internet for more health – related information. World Health Organization (WHO) for example frequently updates their report on the guidelines and requirements for international travellers such as medical requirement as well as health risks on various countries which could help in your preparation.
4. Know About the Required Documents and Travel Agents
There are many travel agents out there that provide multiple Hajj packages. It is vital for you to consider travel agents that would handle most (if not all) of the necessary paperwork for you. Make sure to ask the travel agents on any doubts that you have. Learn about services available by the agencies such as transportation options. Travelling by bus may require long hours but the alternative taxi service comes with an additional cost.
Ensure you have a valid passport that extends to at least a period of 6 months from the date of your departure. Passport procedures require a certain period of time to be processed. Therefore, start working ahead and do the needful such as renewal of passport, visa application etc. Consult with travel agents who will take care of these needs especially your visa application – where more documents will be required in order to be approved.
The Hajj essentials list varies from the compulsory Ihram (clothing worn during hajj)to the smallest item such as a pen. These items would make your journey to and stay in Saudi Arabia safe and convenient (and to save you from unnecessary spending during your pilgrimage).
1. Ihram
A white garment consists of two pieces of unsewn and plain cloth, usually cotton. They have to be light, cool and sweat-absorbant to ensure you clothes are comfortable during Hajj.
2. Medication
Joint pain, gastrointestinal problem and respiratory infections are some of the common ailments that occur during the Hajj period. The close proximity to thousands of people, the exertion in prayers and the physically demanding Hajj rites can make one fatigue and thus, weakening the immune system. Talk to your physician and get the necessary medications or supplements in case of these health challenges.
3. Money
Plan your expenses and bring sufficient money to cover them. Carrying large amounts of money can pose safety issues on the travellers themselves to which you can resort to a travellers' cheque. This cheque can be cashed almost anywhere and is easily replaced in case of theft. Carrying a credit card is also a safer option.
4. Waist Pouch
Carry a waist pouch with the essentials all the time. Keep your valuables, i. e. passport, travellers' cheque, credit card, keys etc with you at all times. Always keep an eye on your pouch especially in over-crowded places.
5. Snacks / Water
Though it is not necessary for you to carry your food around, you can bring some snacks or energy bars with you to keep you going with the Hajj arrangements for the day. These can come in handy especially during rites – packed days to replenish your energy.
6. Miscellaneous
Don't forget to pack your prayer tools such as pocket Quran and tasbeeh and your personal hygiene supplies such as toothbrush, toothpaste, nail clippers and lip balm. Other essential you may want to include in your list are slippers, umbrella, flashlight, detergent, napkins, a cap, and sunglasses.
7. Exercise Regime
Some of the hajj rites would require physical exertion whereby it requires strength and endurance. In order to complete these rites alongside millions of people, with the hot weather and within the limited time frame you definitely need to build up your stamina. Hence, it is necessary for you to be in a good shape before you take off for hajj pilgrimage. Start with a routine of brisk walking or jogging for about 20 minutes to an hour a day. You can increase this duration as days go by. You could also practice reciting the Talbiyah and Tawaf prayers audibly while carrying out the exercises.
8. Talk to Someone Who Has Performed Hajj
Take this opportunity to gain useful tips and advice from family or friends who have performed their Hajj. The first-hand experiences and the details on difficulties they faced will give you a clearer image and prepare you better for your Hajj.
You may also want to browse through your Google / Apple store and install useful apps to prepare you for the Hajj. Tabung Haji for example developed THijari, an app dedicated for Malaysian pilgrims to assist their Hajj preparations including Hajj payments, Hajj status and review, flight details as well as providing them with Hajj related news.
Other mobile apps which you may find helpful during your Hajj:
When Allah (SWT) blesses you with this opportunity, it is necessary that you prepare yourself beforehand to make the best out of your pilgrimage. Make early preparations to avoid any last minute hassles to ensure your time is used to focus on the prayers and rites. You should start with choosing the right travel agent, talking to those who have performed their Hajj and inculcate a new exercise regime in your routine to ensure you are physical fit to perform the Hajj.