Dhul Hijjah is fast approaching, and faithful Muslims across the globe should take the opportunity to maximise their efforts in doing good deeds as the month is considered one of the most sacred months in Islam.
It's also the month when Muslims celebrate Eid-ul-Adha and offer annual sacrifices or qurban (Korban) to commemorate Prophet Ibrahim's willingness to sacrifice his son Ismail as an act of obedience to Allah's command. In this article, we'll share eight reasons why you may want to consider doing qurban online via GlobalSadaqah but first, what is the significance of qurban?
Related: Afford and Effort in Hajj and Umrah: The Issue of Muslims' Faith
Significance of qurban?
Besides reflecting on Prophet Ibrahim's willingness to sacrifice his son, Ismail, for the sake of Allah, Muslims offer qurban of a cow, goat, sheep, ram or camel to help feed the poorer members of their community.The ibadah, which is sunnah muakkadah, is a highly recommended act for Muslims who could afford it. Abu Hurairah narrated that the Prophet Muhammad ﷺ said: "Whoever can afford it, but does not offer a sacrifice, let him not come near our prayer place." [Ibn Majah]
This year, the Qurban rituals are set to return after being postponed in the last two years as a precaution to prevent outbreaks. If you are looking for the right qurban operator to offer qurban without your physical presence, we have a couple of qurban campaigns from around the world that you can choose from. Here are eight reasons why you should consider doing qurban online via GlobalSadaqah.
1) Carry out your Qurban conveniently and securely!
Avoid the hassle by doing your qurban online—all at your fingertips.
Through the GlobalSadaqah platform, you can book your qurban online in under a few minutes, and literally offer or donate qurban to a diverse lineup of campaigns from just anywhere in the world in just a few clicks.
We are an alternative that is safe, easy, and secure. We promise zero compromises in safety and security standards. So if qurban services are not available in your local community, the alternative is to perform your qurban abroad via our platform.
Unless stated otherwise, each donor will also receive a remembrance photo of their qurban.
2) Choose from a wide range of qurban campaigns
Through our online platform, you can connect with beneficiaries across the globe and benefit someone from each corner of the world.
Currently, we are running seven qurban campaigns from six countries including Malawi, Yemen, Cambodia, Nigeria, Zimbabwe and Saudi Arabia (Makkah).
Through these qurban campaigns, you can either offer qurban in full, such as a whole cow, goat or sheep, in partial by sharing a portion of a cow, or through the donation of any amounts to campaigns to aid the poor and needy people in some of the most oppressed regions of the world. Even if you have already made plans for qurban elsewhere, you can still donate to these campaigns.
Make qurban or donate to help the poor taste meat this year via Global Qurban campaigns.
3) Trusted and verified global partners and charities
With the rise of online scams and fraud cases, it may be challenging to ensure that your qurban offering or donation ends up in the right hands? At GlobalSadaqah, we have verified all campaigns and charity partners before they go live on our platform.
Our charity partners must go through a comprehensive due diligence process before being onboarded onto the platform. Our dedicated in-house team ensures that our partners not only believe in the vision and mission of our platform but have the credentials to back them up!
That said, you can rest assured that 100% of our campaigns come from our trusted and verified partners after enhanced due diligence and KYC.
Here's a list of GlobalSadaqah's verified qurban charity partners this year.

An-Nadaa is an islamic non-profit organisation. It is one of the first government-certified Muslim organisations on the ground. Their focus is on launching and managing educational, da'wah and welfare projects across underprivileged communities in Nigeria.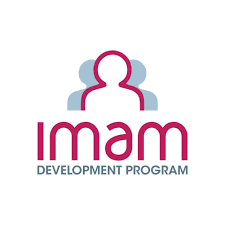 The Imam Development Program (IDP) was established in South Africa in 2014 with the aim to assist currently employed imams and community leaders, and empower, develop and refine their skills. The goal of the program is to build a community of dynamic and inspirational Imams, by delivering exceptional support and developmental programs, so that they can lead the way in establishing faithful, confident, and united communities.
Aswadan was established in 2018 by Malaysian students in Saudi Arabia. Since then, Aswadan has grown significantly as a brand and the business is committed to delivering premium quality products and services to those desiring a healthy lifestyle.
Established in 2013, the Al-Iltizam Relief Program Association is a non-governmental organisation hailing from Shah Alam, Selangor, Malaysia. It provides aid to less privileged countries and started its cause in Gaza, Palestine. Since then, Al- Iltizam's support has quickly spread to other countries such as home ground, Malaysia, Bangladesh, Cambodia, India, Myanmar, Nepal, Syria and Yemen.
In today's day and age, having multiple payment options is a big plus point for any user. Not only does it give you more options, but this diversity reduces the possibility of your purchase or payment not going through which can be annoying.
4) You can pay your Qurban online via multiple payment options
Plus, with the availability of so many different payment methods, it's only natural that you are going to have one or more personal payment preferences.
If you regularly pay via bank transfer, it's less likely that you'll suddenly have the urge to start paying via credit card. Understanding this, we've implemented a diversified payment option on our platform for your ease and flexibility.
To date, our donation methods include international currencies via Visa and Mastercard, FPX (direct bank transfer system) for MYR, and a variety of cryptocurrencies, including Bitcoin.
Why do we do this? Simply because we believe in making charity as easy and as efficient as possible. Doing good shouldn't cause you a headache.
5) Automate your Qurban donations or offering for ease
The sacred month of Dhul Hijjah offers Muslims an important gift—rekindling or rediscovering their spiritual side from Ramadan.
After bidding farewell to Ramadan this year, we may find ourselves to have gone a little off course from what we had set to do during Ramadan or started practising during the holy month.
The month of Dhul Hijjah allows us to reconnect with that old self, especially in the first 10 days, which are as significant as the last 10 nights of Ramadan.
With the rewards and forgiveness that Allah offers in the first 10 days of Dhul Hijjah, it's only natural that we maximise our efforts in performing ibadah, be it praying, fasting, giving charity and other good deeds.
Prophet Muhammad ﷺ said, "There are no days in which righteous deeds are more beloved to Allah than in these (10) days." [Abu Dawud]
Let GlobalSadaqah take care of your qurban donations automatically this Dhul Hijjah, while you focus on your worship.
Related: 5 Ways to Maintain Good Habits after Ramadan
Subscribe to auto-donate and we will transfer your donation to a campaign of your chosen category. It's powered by Stripe, the world's most secure payment gateway. Here's how you can sign up for our auto-donate feature:
Sign up with us
Enter your preferred donation amount
Now focus on your ibadah while GlobalSadaqah takes care of your donations automatically
This feature is a great reminder of one of the most important lessons by Prophet Muhammad ﷺ, "Take up good deeds only as much as you are able, for the best deeds are those done regularly even if they are few." [Ibn Majah]
6) Donate a Qurban online on behalf of a loved one
Our goal at GlobalSadaqah is to spread smiles across the world by connecting our donors with those who are in need.
On our platform, not only can you make one person smile, but at the very minimum, you can make at least two people smile by donating to more than one campaign or by surprising your loved ones by donating on their behalf.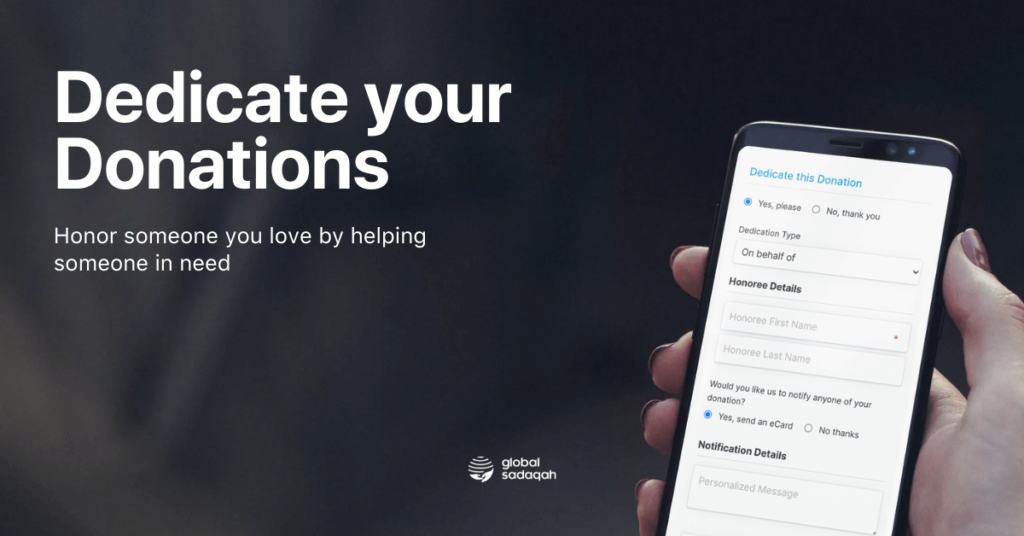 Not sure what gift to give to your family and friends? Why not give something that will last beyond their lifetime and continue to reward them even when they are gone? Honor your loved ones today by helping someone in need.
7) Peace of mind—leave your qurban charity to us, we will deliver your amanah
Trust is not given but earned. We recognise this and have worked hard to ensure that our platform provides you full transparency on how and where your money goes. Our donor dashboards provide donors with regular updates on the progress and outcome of the campaigns.
Important information on the campaign such as type of qurban or sadaqah, list of beneficiaries, name of the partnering charity organization, information on what the cost covers, and purpose and objective of the campaigns are all listed on the platform.
Related: Muslims and Sadaqah
On our qurban campaigns pages, you will find that all campaigns listed explain what the cost price covers such as slaughtering, travelling to distribute meat and skins, and tags for the cows.
All campaigns are verified and approved by the in-house Shariah team.
8) You don't need a reason to perform charity or sadaqah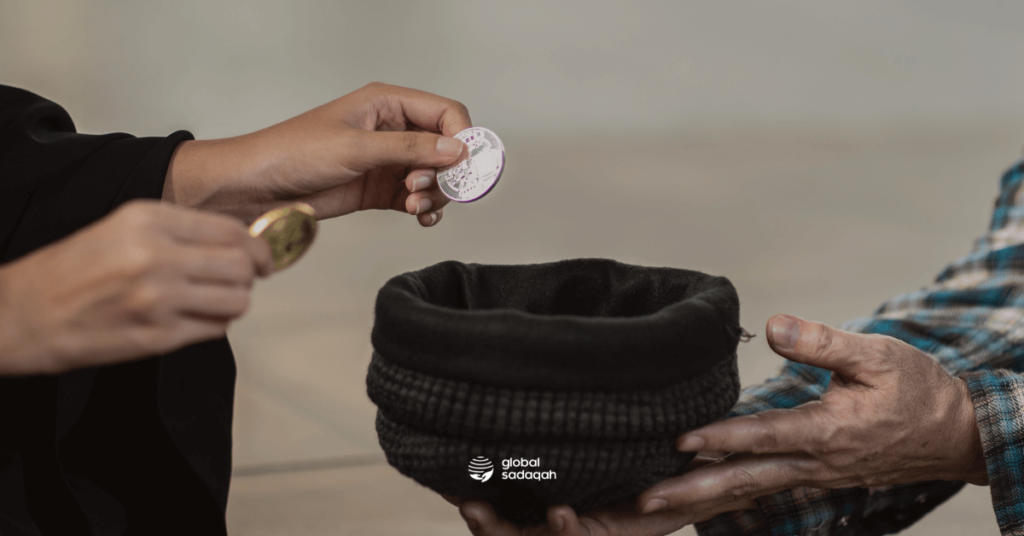 Hats off to you if you've completed your Qurban obligation. Alhamdulillah.
But fulfilling your obligation should not limit you from giving more to the needy and poor, especially if you are in the position to give more than others in these testing times. For many families in poverty-inflicted countries, getting to enjoy meat this Eid al-Adha season is a once in a lifetime luxury.
Spread smiles and bring food relief across the world this Eid al-Adha by offering your qurban via our Global Qurban Campaign!