Offering qurban is sunnah muakkadah upon Muslims. It's an act of worship that is highly recommended in Islam. Anas bin Malik narrated that he once saw the Prophet ﷺ slaughter two rams with his own hands while mentioning the name of Allah and reciting takbir. [Bukhari]. While it's sunnah to carry out the slaughtering yourself, offering qurban abroad is an alternative for Muslims who are unable to perform it in their own localities. It also enables qurbani meat to be distributed to Muslims in other countries that are more in need. If you are new to this, here are five things you need to know about performing qurban abroad.
1) The qurban costs vary from one country to another
Depending on where you are from and the country you wish to offer your qurban to, the costs may be higher or cheaper than your area. For example, it costs about RM3,3000 for a whole cow qurban in Nigeria. That's roughly RM1,000 cheaper than if you do it in Papua New Guinea, but it's three times more expensive (than Nigeria) if you do it in Palestine.
Unless there's a shortage of supply, the animals for qurban are usually sourced locally to benefit the local traders and farmers, and subsequently boost the local economy. It's also most cost-effective to source the livestock locally.
2) The qurban costs vary depending on the portion and the animal you choose
Similar to offering qurban in your home country, the costs will depend on whether you are taking a portion of an animal or sacrificing a whole animal. It also depends on the type of animals you choose.
Due to its size, a cow generally costs more than a goat or a sheep, regardless of whichever country you are comparing it to.
To illustrate, the cost of a whole cow for qurban in Nigeria is about RM3,300 while the cost of a sheep there is about eight times cheaper, i.e. around RM420. In Yemen, the cost of a sheep for qurban (RM6,000) is about twice higher than in Nigeria.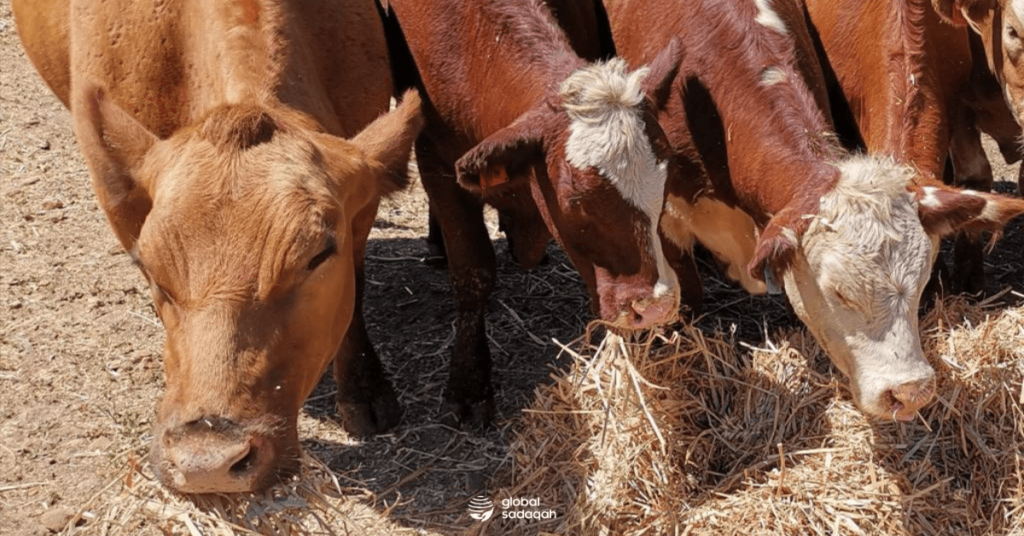 3) The qurban costs are typically subject to administrative and logistical costs
Non-profit or charitable organisations do not make money but there are administrative and logistical costs that they need to bear to fulfil the qurban orders.
Some service providers may charge these separately for clearer itemisation and bookkeeping. Some others factor them in the amount you are paying, and indicate it in their communications materials. On Global Sadaqah, our partners have included the costs of slaughtering, logistics to distribute the qurbani meat and other charges, if any, in the amount specified under each campaign.
#CirculateGood this Eid al-Adha through GlobalSadaqah's Qurban campaigns!
4) The slaughtering of your qurban animal will be carried out by a representative
Well, since it's done abroad, a representative from the non-profit or charity organisation that you choose will be doing the qurban rituals on your behalf.
On GlobalSadaqah, our charity partners across multiple countries have an on-ground team that will take care of the entire process from sourcing the livestock, to slaughtering the animal and distributing the qurbani meat to the identified beneficiaries in respective countries.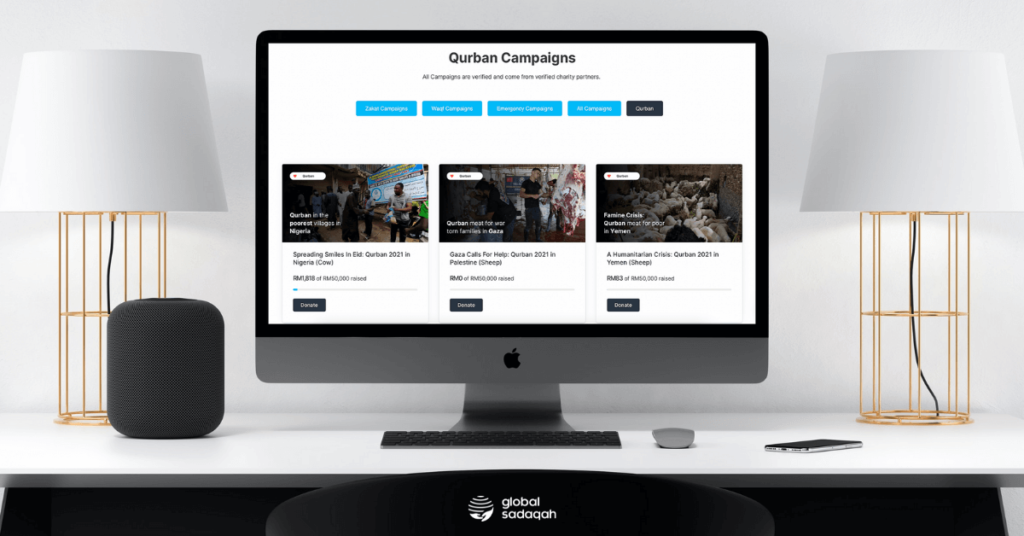 5) The qurbani meat will be distributed to identified vulnerable families
Unlike qurban which is done locally where you could have one-third of the qurbani meat and collaboratively identify those who are eligible to receive the remaining portion, the case is different when you do it abroad.
Once the slaughtering and packaging process is done, the qurbani meat will all be distributed to a carefully vetted list of the most deserving families in the respective localities. The beneficiaries that our charity partners have identified include underserved students, orphans, single mothers, Zakat recipients, indigenous communities, families below a certain income threshold, families severely affected by the pandemic, and residents in war-torn countries.
In most cases, the qurbani meat will be delivered fresh to the beneficiaries. However, there are instances where the meat will need to be frozen or canned for preservation before transported due to the distance and logistic constraint.
Here's a snippet of the qurbani meat distribution by one of our long-standing charity partners in Nigeria, An-Nadaa Educational Foundation.

Global Qurban Campaign: Help spread smiles across the world
This Eid al-Adha, let's join our hands in extending qurbani meat to the most vulnerable communities around the world. As you are now aware, offering qurban (korban), or sacrifice is sunnah muakkadah to those who could afford it.
Abu Hurairah narrated that the Prophet ﷺ said, "Whoever can afford it, but does not offer a sacrifice, let him not come near our prayer place." [Ibn Majah]
Apart from fulfilling a religious obligation and reviving the sunnah, your qurban also means the world to those who are less privileged. Poverty-stricken families in poor countries look forward to Eid al-Adha all year long, as it is the only time that they get to enjoy a meal with meat. Poor children in Yemen, for example, are forced to eat leaves on a daily basis to survive.
A man once asked the Prophet ﷺ, "What sort of deeds or (what qualities of) Islam are good?" The Prophet ﷺ replied, "To feed (the poor) and greet those whom you know and those whom you do not know." [Sahih al-Bukhari].
Spread smiles and bring food relief across the world by offering qurban via our Global Qurban Campaign!