In Arabic, the word 'sadaqah' (charity) is derived from the root word 'sidq', which means sincerity. It implies that giving sadaqah is a sign of sincere faith. There are many forms of sadaqah in Islam but according to the Prophet ﷺ, "The best form of sadaqah is that which is given by a wealthy person (from the money which is left after his expenses)." [Bukhari]. If you are looking for legitimate online charity organisations that will channel your sadaqah into a good cause this Eid al-Adha, check these out.
1) GlobalSadaqah
An award-winning CSR, Zakat and Waqf Management platform, Malaysia-based GlobalSadaqah connects donors from around the world to a host of charitable global campaigns by their verified partners through the platform.
According to GlobalSadaqah Strategic Advisor, Umar Munshi, once a campaign has hit its fundraising goal, they track the progress of the work carried out by the charity partner from the initiation stage until its completion. For example, if the campaign is to build a well for the people in certain part of Africa, they will monitor the development progress and once completed, they will also measure the impact it makes in the lives of the beneficiaries.
The goal of the platform is to convert beneficiaries into benefactors as to break the cycle of dependency on donations that some beneficiaries may have unintentionally fallen into due to lack of empowerment.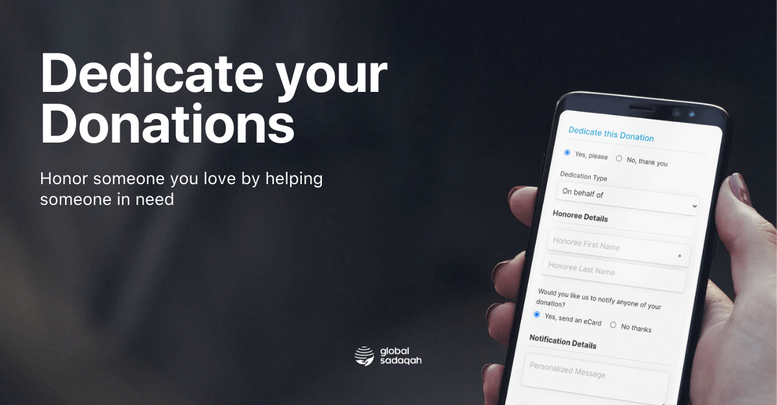 With GlobalSadaqah, you can also donate on behalf of your loved ones or your deceased family members by dedicating your donations to them.
Related: Global Qurban 2022: Donate or Offer Qurban to the Underserved in These Countries
2) MATW Project
You would probably remember Ali Banat, a young Australian Muslim millionaire turned philantrophist who passed away in 2018 due to cancer. He decided to distribute his wealth via a charity organisation he founded after being diagnosed with the illness, Muslims Around The World (MATW Project) to help eradicate poverty and empower the underserved communities for a more sustainable future.
Since 2015, MATW-Project has built numerous schools, orphanages, and housing for widows and orphans, among others.
3) Sadaqa Welfare Fund
Sadaqa Welfare Fund's story began in 2013 when two brothers were sitting in a mosque in the middle of the night, distressing about the issues surrounding the vulnerable communities around the world, and what they could do to help them. Their initial field trip to densely-populated Bangladesh, one of the world's poorest countries, was the kickstarter. From there, their drive to serve humanity amplified.
The Sydney-based Islamic relief organization carries out their own field projects and donation distribution on-ground. Their projects mostly centre around war-torn countries including Syria, Palestine, and Yemen as well as vulnerable communities such as Rohingya and Bangladeshis.
4) Muslim Hands
Dedicated to tackling the root causes of poverty, Muslim Hands works beyond the provision of immediate relief, and instead, towards supporting communities over the long-term.
The UK-originated international aid agency grew from their first response to the Bosnian war to countless more emergencies and working in over 30 countries around the world. Their long-term projects include the establishment of schools, healthcare clinics, and livelihood programmes worldwide.
Related: 5 Things You Need to Know about Qurban (Korban/Udhiyah) Abroad
5) Islamic Relief
To deliver effective aid and to build community resilience, Islamic Relief, a UK-based faith-inspired humanitarian aid agency, has established presence in over 45 countries to work alongside their headquarters. Having local partners allows them to respond swiftly to emergencies and work in areas that other organisations may not have access to
Through global advocacy, Islamic Relief pushes for a positive impact on various issues, particularly on climate change, gender justice and forced displacement. Meanwhile, they also develop Islamic perspectives that combine spiritual and practical insights to provide distinctive, impactful approaches to some of the biggest challenges facing our world.
6) Muslim Aid
One of the largest Muslim development and humanitarian organisations in the UK, Muslim Aid has been striving to ensure that those suffering from the effects of poverty, natural disaster and war are able to survive and are empowered to thrive.
Through their field offices and partners, they focus on providing aid through four key areas: humanitarian and emergency relief, sustainable livelihoods, education, and healthcare.
Related: 5 Things You Need to Know about Qurban (Korban/Udhiyah) Abroad
7) An-Nadaa Educational Foundation
Founded in 2014, An-Nadaa Educational Foundation aims to improve the standard of living of underprivileged communities in Nigeria. Their projects range from financial aid, food distribution, digging of wells, to the building of mosques, schools and Islamic centres, and provision of Islamic education.
Part of their goal is to preserve Islam in Nigeria as well as to empower students and individuals with the knowledge and skills required to excel in all spheres of life and contribute as valued members of society.
An-Nadaa Educational Foundation is also one of the long-standing charity partners on GlobalSadaqah.
Donate to Safe Water Project in Nigeria by An-Nadaa Educational Foundation
Give charity this Eid al-Adha!
There are various other platforms that offer ease of online sadaqah but these seven platforms are a good start.
Remember, the upper hand is better than the lower hand (he who gives is better than he who takes) and "Those who spend their wealth in charity day and night, secretly and openly—their reward is with their Lord, and there will be no fear for them, nor will they grieve." [Surah al-Baqarah: 262]
Happy giving sadaqah!
---
Global Qurban 2022
Have you decided where to offer your qurban this year? Fulfill your obligations and #CirculateGood around the world this Eid al-Adha via our Global Qurban campaign. You can donate just any amount or offer Qurban to families in need from around the world.
You may also want to read: