Did you know that you can double up your sadaqah Ramadan and fasting rewards by offering food to another fasting person when they break their fast? The Prophet ﷺ said, "Whoever provides food for a fasting person to break his fast with, then for him is the same reward as his (the fasting person's), without anything being diminished from the reward of the fasting person." [Tirmidhi]
Ramadan is also the best time to multiply our sadaqah. Ibn `Abbas narrated that the Prophet ﷺ was the most generous of all the people, and he used to become more generous in Ramadan when Gabriel met him. Gabriel used to meet him every night during Ramadan to revise the Quran with him. Allah's Messenger ﷺ then used to be more generous than the fast wind. [Bukhari]
Related: 5 Sunnah Acts to Practice This Ramadan
This Ramadan, let's step up our acts of sadaqah by offering food to those in need to break their fast. Here are five sadaqah Ramadan meal campaigns from around the world that you can donate to.
1) Ramadan food basket for a family of five in Johor, Malaysia
Waqaf An-Nur, is organising different kinds of support programmes for the underprivileged community. One of their most appreciated programmes is the "Ramadan Food Basket". It aims to support asnaf families registered under the Johor Religious Council (MAIJ) and B40 communities registered with the district office via food aid.
Each food basket provides essential food items such as rice, cooking oil, milk, and dates to feed a family of five for the month of Ramadan. The cost is RM115 per box.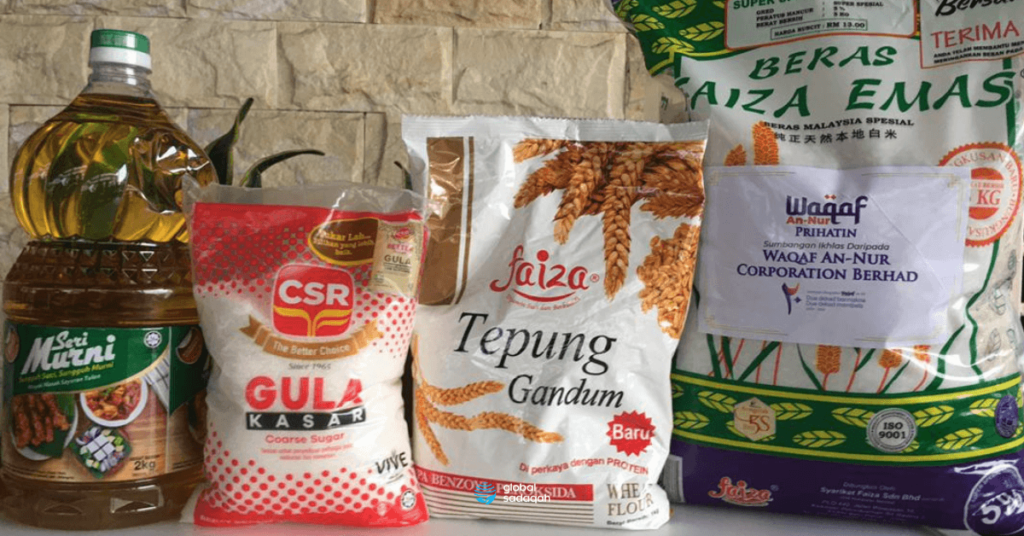 Donate to asnaf and B40 Ramadan food basket
2) Iftar and Ramadan meals for families in al-Quds, Palestine
The city of al-Quds and the Old City, in particular, are the worst hit by the pandemic amid the ongoing Israeli terrorism that has injured and killed thousands of civilians, including women and children, and destroyed houses and facilities.
As a result, more than 90% of the Palestinian daily wage workers have lost their source of income, while small businesses are forced to shut down.
To ease the burden of the residents of the holy land, Ummet Vakfi, an independent developmental Turkish association that aims to support al-Quds and al-Aqsa Mosque, is raising funds to help them with the following:
1. Iftar meals
Distribution of iftar meals to those living in the compound of and near Masjid al-Aqsa. Each iftar box contains chicken, grilled potatoes, bread, yogurt, fruit, juice, water, and dates.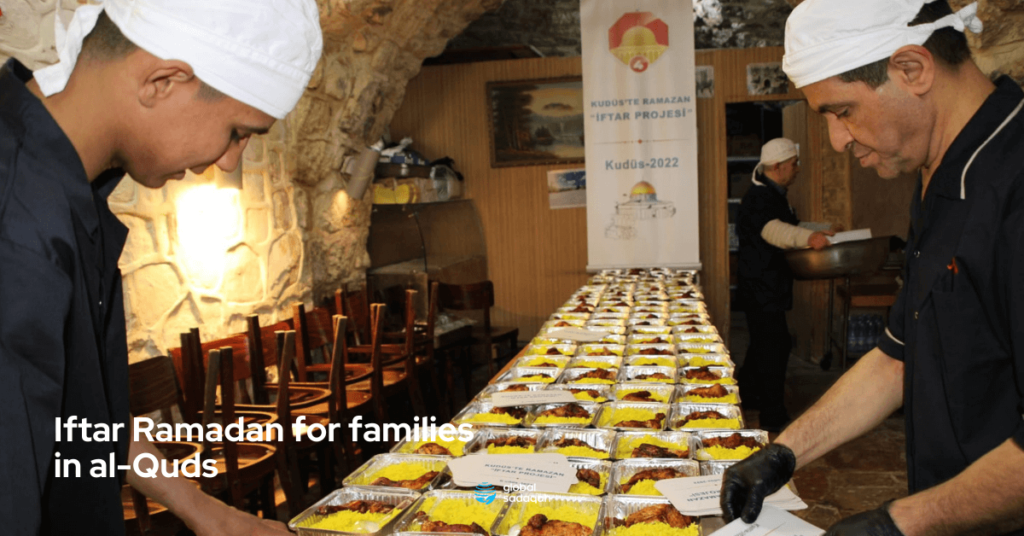 2. Ramadan food basket
Distribution of essential food baskets for the poor and needy around Masjid al-Aqsa in Ramadan. Each food box comes with rice, sunflower oil, sugar, salt, soup, tahini freekeh, pasta, vermicelli, olive tomato, lentils, zaatar, tea, dates, and tuna, and can feed a family of five to seven for a month.
3. Clean water
Water bottle distribution to as many Muslims in and around Masjid al-Aqsa as possible.
Donate to Ramadan meals in al-Quds
3) Ramadan food drive for Nigerians
Almost 80% of the population in Nigeria earn less than $2 a day. In the rural communities of Northern Nigeria, about 60 million people live in extreme poverty and have limited access to basic necessities.
This Ramadan, GlobalSadaqah has once again joined hands with An-Nadaa, an Islamic NGO that focuses on welfare projects for underprivileged communities in Nigeria, to allow donors from around the globe to be part of the Ramadan food drive for Nigerians. Each food box contains essential food items such as rice, corn, and fish, and can feed a family of five for a month. The cost is RM445 per box including the cost of distribution.
Donate to Nigerian Ramadan food drive
4) Iftar and food basket for Uyghur refugees in Turkey
n recent years, an estimated 50,000 Uyghurs have fled to Turkey from their hometown in Xinjiang, China (East Turkistan) to escape human rights violations and religious persecution by the inhuman Chinese government of the local Turkic populations such as Uyghurs and Kazakhs. As refugees, they now live in overcrowded households with limited access to food, let alone education, employment, and healthcare.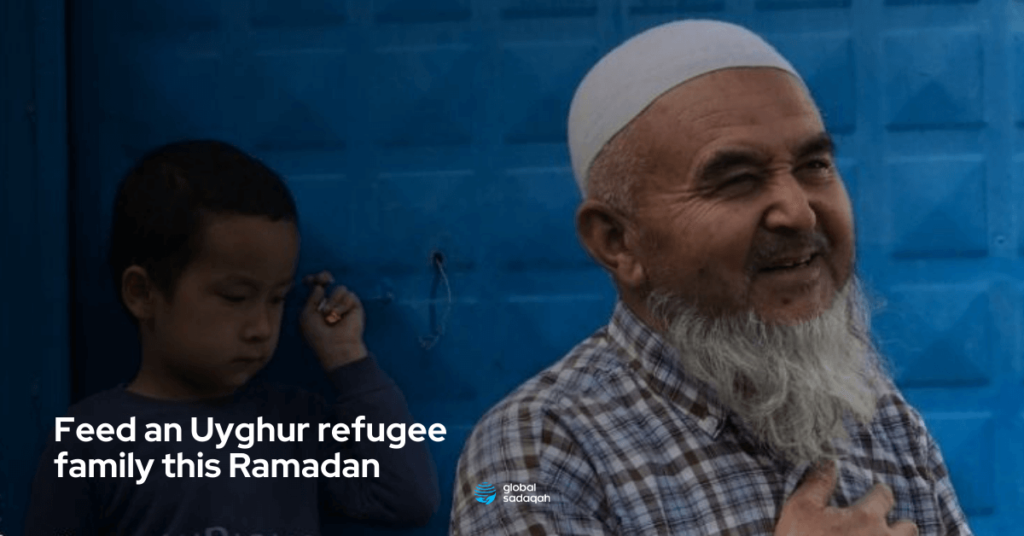 Related: 7 Benefits of Giving Sadaqah
Aksi Cepat Tanggap (ACT), a humanitarian organisation that focuses on natural and humanitarian integrated disaster management, is channeling food aid to help provide food baskets and iftar for 500 Uyghur refugee families in Kayseri, Turkey.
Each food box contains basic food supplies including pasta, flour, and other staple foods, and costs RM140 per box. One iftar meal costs RM22 per pax and comes with rice pilar, meatballs, bread, and water, among others.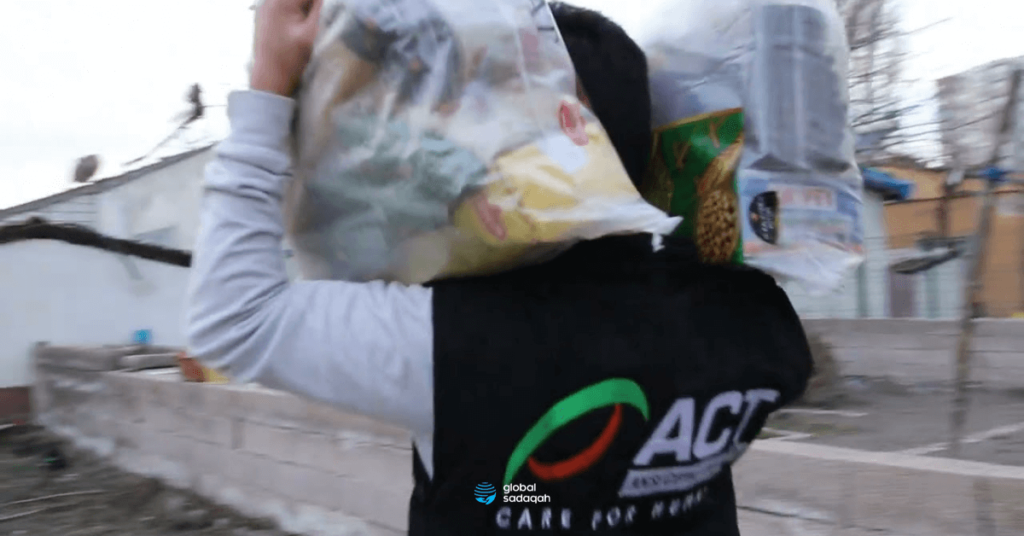 Donate to Ramadan food basket for Uyghur refugees
5) Ramadan food box for Rohingya refugees
This Ramadan, al-Iltizam, a Malaysia-based NGO, is working on the ground to make sure that vulnerable Rohingya refugee families in Myanmar and Bangladesh have adequate food to get them through this month. Donations to this campaign will be channeled to overcrowded refugee camps in Cox Bazaar in Bangladesh and internally displaced people and poor villagers in Rakhine State, Myanmar.
The team aims to provide 700 hot meals daily to the refugees and a food box for 300 families. Each food box contains essential food items such as rice, potatoes, and milk, for a family of four that could last for about a month. The cost is RM150 per box.
Donate to Ramadan food box for Rohingyas
Looking for more campaigns to donate to? Check out other Ramadan campaigns on GlobalSadaqah!
You may also want to read: